MQL technology
Explanations and constraints
Unlike conventional cooling lubricants (CLs), MQL requires only tiny amounts of lubrication medium for chip extraction and removal. Applying an optimised lubrication programme during the cutting process significantly reduces the onset of frictional heat. Moreover, the vast majority of the ensuing thermal energy is carried away along with the chip. This effect is further aided by the flowing air current and relatively high feed rates.
These days, production facilities across the globe carry out every imaginable process using MQL systems. A very broad range of different machining operations can be conducted to beneficial effect as long as conventional cooling lubrication is not used as an oil-water mixture for cooling and lubricating but instead an optimised MQL medium is employed for the lubrication task. These include:
milling
lathing
deburring
thread cutting
thread moulding
drilling
deep-hole drilling
grinding
fine boring
rolling
The MQL medium can be fed to the cutting edge of the machine tool's blade in two ways: either via spray nozzles or internally – directly to the cutting edge – via the tool's cooling ducts.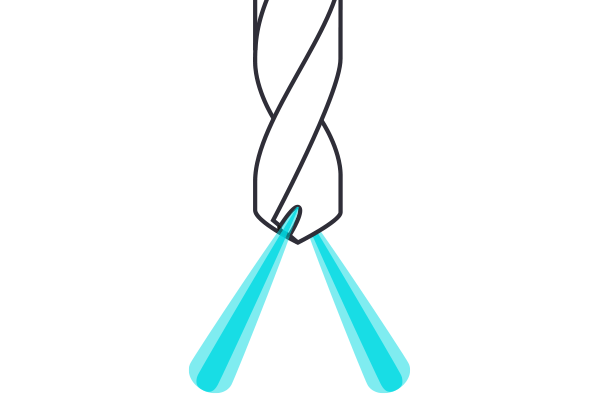 Internal MQL supply
Developments over that past two decades have clearly shown that, by and large, users reap the most benefits from internally fed lubrication. There are no shadowing effects with an MQL supply. The lubricant always reaches the cutting edge directly, with no interference from protrusions as a result of the nozzles being installed in the machining area. LUBRIX MQL systems have been designed fundamentally with the internal feeding of MQL media in mind and fulfil all the demands posed by such technology. Where required, a combined internal and external supply can also be realised using a LUBRIX system.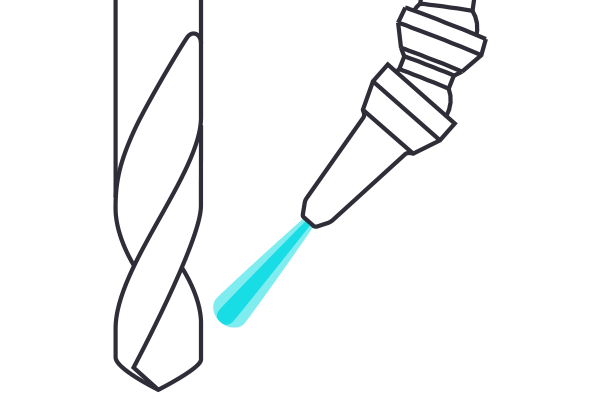 External MQL supply
A nozzle sprays the aerosol onto the cutting edge of the tool's blade from outside. An external supply is the only option for tools not equipped with cooling ducts. When various tools are in use, one of the biggest challenges posed by this option is ensuring the nozzles are correctly set so that the spray hits the right area of the tool's blade, a task that also requires extensive manual labour.
Benefits of the Minimum Lubrication technology
Low machine tool acquisition costs

Low lubrication technology acquisition costs

More even blade temperature

Lower contaminant loads for employees

Improved environmental impact
Reduced lubricant consumption

Dry tools after machining

No coolant filtering required

No need to dispose of cooling lubricant

No chip cleaning required

Energy savings of up to 50% compared to CLs
MQL – the economical technology
LUBRIX MQL technology offers numerous advantages compared to conventional manufacturing processes involving cooling lubricant. Lubricating media are prepared as an oil-water mixture (aerosol) inside the LUBRIX MQL systems in such a way that operators always have the option of minimising the volume of lubricant to be supplied to each individual tool without impairing the tool's service life. Users opting for a LUBRIX MQL system thus profit from many of the above-mentioned potential optimisation solutions across the entire production process.